Back Issues
Back issues of Rain and Thunder are available for $5/issue. They can be ordered by sending a list of requested issues and payment to: Rain and Thunder, PO Box 674, Northampton, MA 01061
Or, purchase via Paypal! Be sure to list the issue numbers you're ordering in the "message to seller" box.
Issue #33, Winter Solstice 2006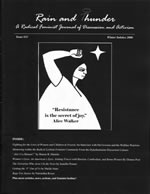 Featured articles:
Fighting for the Lives of Women and Children in Poverty: An Interview with Pat Gowens and the Welfare Warriors
"Ain't I A Human?" by Breeze R. Daniels
Women's Lives, an American's Eyes: Joining Forces with Russian, Cambodian, and Roma Women by Dianne Post
The Terrorists Who Aren't in the News by Jennifer Pozner
Getting the "F" Out of Us by Sheila Anne
Rage for Justice by Ninotchka Rosca
Issue #32, Fall Equinox 2006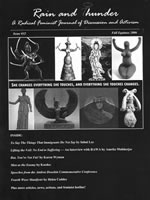 Featured articles:
To Say The Things That Immigrants Do Not Say by Inhui Lee
In Among the Market Forces? By Gillian Hanscombe
A Call to Action for the Women's Movement and Everyone Who Cares About Women's Lives
Lifting the Veil: No End to Suffering – An Interview with the Revolutionary Association of the Women of Afghanistan (RAWA)
Speeches from the Andrea Dworkin Commemorative Conference
Fourth Wave Manifesto by Helen Caddes
In Review Pornified: How Pornography is Transforming Our Lives, Our Relationships, and Our Families by Pamela Paul, reviewed by Amy Winter
Issue #31, Summer Solstice 2006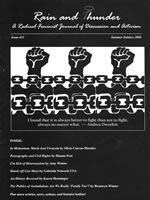 Featured articles:
In Memoriam: Maria Jose Urruzola by Silvia Cuevas-Morales
Pornography and Civil Rights by Dianne Post
I'm Sick of Heterosexism by Amy Winter
Hands off Liza Maza by Gabriela Network USA
Art History Reversed by Karen Henninger
The Politics of Assimilation: Are We Really 'Family Too'? by Bronwyn Winter
Chronic Fatigue Syndrome: A First Person Story by Paula Caplan
Issue #30: Herstory Issue, Spring Equinox 2006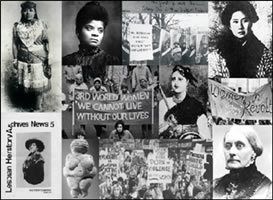 Featured articles:
35th Anniversary of the Suppressed Histories Archives by Max Dashu
Days of Celebration and Resistance: The Chicago Women's Liberation Rock Band, 1970-1973 by Naomi Wesstein
My Family Women (in Five Thousand Years of Diaspora) by Inhui Lee
Thou Shalt Not Suffer a Woman to Live: The Reasons Behind the Hiding of Women's Sexuality During the Witchcraze by Shantell Powell
Chant Down Greenham: Songs from the Women's Peace Movement
The Women Before Us: Herstorical Activism Remembered by Garine Roubinian
Issue #29: Annual Activism Issue, Winter Solstice 2005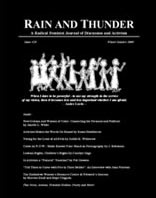 Featured articles:
New Orleans and Women of Color: Connecting the Personal and Political by Janelle L. White
Activism Makes the World Go Round by Susan Hawthorne
Voting for the Least of all Evils by Judith K. Witherow
Come on N.O.W.: Make Known Your Stand on Pornography by J. Robinson
Lesbian Rights, Children's Rights by Carolyn Gage
Is Activism a "Natural" Vocation? By Pat Gowens
"Tell Them to Come with Fire in Their Bellies:" An Interview with Joan Norman
The Zimbabwe Women's Resource Center & Network's Journey by Shereen Essof and Hope Chigudu
Issue #28: Fall Equinox 2005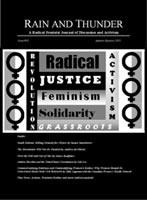 Featured articles:
South Dakota: Killing Ground for Choice by Suzanne Sunshower
The Revolution Will Not Be Funded by Andrea del Moral
What Did We Gain from the Women's Liberation Movement? A Response from a Radical Lesbian Feminist of the 21st Century by Lisa Garrett
Over the Hill and Out of Sight by Janice Keaffaber
Read ID: Perpetuating the Myth of Authenticity by Laura Newland
The Fat Patrol's Greatest Hits: Songs to Celebrate Fat Women
Andrea Dworkin and the United States Constitution by Lila Lee
Issue #27: Remembering Andrea Dworkin, Summer Solstice 2005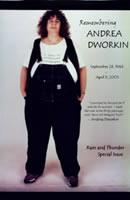 Features writings honoring and remembering the life, work and activism of Andrea Dworkin. Includes moving tributes by Annie McCombs, Elliott Femynye batTzedek, Christine Stark, Robin Carstensen, Susan Faupel, Carolyn Gage, Gail Dines, and many more. Also features write-ups on the memorials that took place for Andrea throughout the country and world.







Issue #26: Global Feminism, Spring Equinox 2005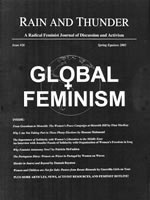 Featured articles:
From Greenham to Menwith: The Women's Peace Campaign at Menwith Hill by Finn MacKay
Why I Am Not Taking Part in These Phony Elections by Houzan Mahmoud
The Importance of Solidarity with Women's Liberation in the Middle East: An Interview with Jennifer Fasulo of Solidarity with Organization of Women's Freedom in Iraq
Why Feminist Autonomy Now? by Patricia McFadden
The Portuguese Diary: Women on Waves in Portugal by Women on Waves
Murder in Juarez and Beyond by Dannah Baynton
Societal Context of Violence Against Women in San Cristobal de Las Casas, Chiapas, Mexico by Monica Sandschafer
Women and Children are Not For Sale: Posters from Busan Biennale by Guerrilla Girls on Tour
Issue #25: Activism Issue, Winter Solstice 2004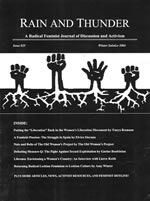 Featured articles:
Putting the "Liberation" Back in the Women's Liberation Movement by Tanya Brannan
A Feminist Passion: The Struggle in Spain by Elvira Siurana
Nuts and Bolts of the Old Women's Project by the Old Women's Project
Defeating Measure Q: The Fight Against Sexual Exploitation by Garine Roubinian
On Being a Radical Feminist by Karen Henninger
No More Racist Reproductive Policies! By Racism and Reproductive Rights Task Force
Librema: Envisioning a Women's Country: An Interview with Lierre Keith
Returning Radical Lesbian Feminism to Lesbian Culture by Amy Winter
Issue #24, Fall Equinox 2004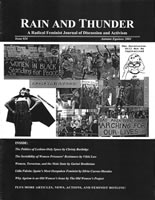 Featured articles:
The Politics of Lesbian-Only Space by Christy Burbridge
The Invisibility of Women Prisoners' Resistance by Vikki Law
Women, Terrorism and the Male State by Garine Roubinian
Lidia Falcon: Spain's Most Outspoken Feminist by Silvia Cuevas-Morales
Why Ageism is an Old Women's Issue by the Old Women's Project
Writing as Resistance, Writing as Love by Joanna Kadi
Why We're Not Getting Married by Martha Ackelsberg and Judith Plaskow
Effective Self-Defense For Women Means a Combination of Skills by Laura Kamienski
Finding the Goddess by Asphodel Long
What Every Menstruating Woman Needs to Know by the Blood Sisters Project
Issue #23: Building Community, Summer Solstice 2004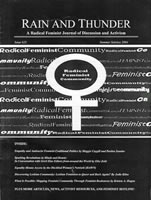 Featured articles:
Empathy and Antiracist Feminist Coalitional Politics by Maggie Caygill and Pavitra Sundar
Sparking Revolutions in Minds and Hearts: In Conversation with Grrrl Zine Editors from around the World by Elke Zobl
Consciousness-raising, Community, and Conflict by Yoshi Bird
Building Community: A Hard Row to Hoe, or Not by Sally Tatnall
Equality Means Access by the DisAbled Women's Network (DAWN)
Let's Take Back Our Lives! Let's Take Back Our Funding! By Loonwomon
Discovering Lesbian Community: Lesbian Feminism to Queer and Back Again? By Jodie Kline
What is Possible: Mapping Feminist Community Through Feminist Bookstores by Kristen Hogan
Issue #22, Spring Equinox 2004
Featured articles:
The Connection Between Militarism and Violence Against Women by Lucinda Marshall
Fighting to Win: Revitalizing Our Movement by Yoshi Bird
Lilya-4-Ever: The Uncle Tom's Cabin of the Contemporary Abolitionist Movement by Donna Hughes
Hey, Hey, Ho, Ho, Ageism Has Got to Go! By Mary Morgan
Race and Gender: The Co-optation of Asian American Feminism by Sonia Shah
Stories From the Inside: Barriers to Health Care for Women in Prison by LSPC
Monstrous by Suzanne Sunshower
"Ritual Abuse": A Talk Given at a Local Rape Crisis Line Training by Loonwomon
A Challenge to the Feminist Community by Laura Kamienski
The War on Terror Women: Ashcroft Reconsiders Policy for Women Refugees by Jenn Frederick
Handling Sexual Harassment by Bernice Sandler
Issue #21: Activism Issue, Winter Solstice 2003
Featured articles:
Perpetrate My Fist! Women's Self-Defense as Physical Education for Everyday Life by Carrier Rentschler
Playwrights as Activists by Carolyn Gage
Sisters in Cinema: An Interview with Yvonne Welbon
Because Women with Disabilities are…by Jen Robinson
10 Reasons for Not Legalizing Prostitution by Janice Raymond
Criminalizing Motherhood by Silja J.A. Talvi
Sixteen Years of Radical Feminism by Anissa Ljanta
Breaking Through: A Rite of Passage for Feminist Activists in Korea by Linda Inson Choy
Making Sexual Assault and Domestic Violence Services Accessible by Sheryl Robinson Civjan
Toward an Activist Spirituality by Starhawk
Protesting Sexual Slavery in Berkeley, California by Diana Russell
Issue #20: Women's Health, Fall Equinox 2003
Featured articles:
Women, Health, and the Politics of Fat by Amy Winter
The New Face of Tobacco by Noy Thrupkaew
"If you're going to be raped, let me give you a condom": The Priority of
Distributing Condoms Over Ending Sexual Slavery by Donna Hughes
An Interview with Becky Thompson, author of "A Hunger So Wide and So Deep: A Multi-Racial View of Women's Eating Problems"
Women, Income, and Health in Manitoba: An Overview and Ideas for Action by Lissa Donner
Asian Women's Health: Organizing a Movement by Sia Nowrojee and Jael Silliman
Issue #19, Summer Solstice 2003
Featured articles:
My Response to the Journalist Who Wanted to Know How the War Was Affecting My Writing by Carolyn Gage
To Be a Woman by Azra Talat Sayeed
Not a Fantasy: Racial Hatred and Misogyny in Pornography by Joyce Wu
Chronic Fatigue Syndrome by Paula Caplan
Feminism in the Transition Home by Pauline Funston
A History with No Name by Adriene Sere
Fat Feminist Herstory, 1969-1993: A Personal Memoir by Karen Stimson
Take Back Our Bodies by Marius Griffin
Celie's Revenge: Hip Hop Betrays Black Women by Jennifer McLune
Reject Red Light Districts as a Solution to Violence Against Women by Suzanne Jay
Re-Action: A Survivor of Child Prostitution Responds to the GLBT Movement's Efforts to De-Criminalize "Sex Work"
Women Against Religious Tyranny by Vickie Sandell Stangl
Issue #18: Honoring Andrea Dworkin, Spring Equinox 2003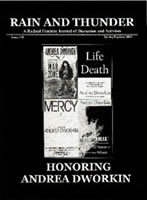 Features writings by Carolyn Gage, Gail Dines, Catharine MacKinnon, Patricia Barrera, Ann Simonton, Christine Stark, Janice Raymond (and more!) honoring the powerful voice and insightful writings of Andrea Dworkin. Includes an interview with Andrea.
Issue #17: Annual Activism Issue, Winter Solstice 2002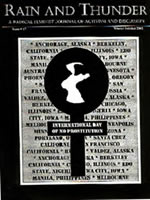 Featured Articles:
National and International Action Write-ups for the First International Day of No Prostitution (IDNP)
Bay Area IDNP Speech Transcripts
Feminist Activism and Political Strategy: An Interview with Andrea Dworkin
Saartjie's Belated Homecoming: Sara Baartman Returns to South Africa by Alicia Banks
Putting the Politics Back Into Lesbianism by Janice Raymond
How to Plan an Action by Starhawk
Privatized Justice No Justice for Women by Suzanne Jay
10 Things Anyone can do to End Violence Against Women by Jennifer Howard
Welfare Warriors' Fight Back Song/Carols
An Open Letter to Ms. Magazine by Ann Simonton
Therapy or Feminism? By Louisa Russell
The Art of Activism by G. Uhlin
Justice for Women by Rachel Cooke
In Review Amazon to Zami: Toward Global Lesbian Feminism edited by Monica Reinfelder, reviewed by Mary Read
Issue #16, Fall Equinox 2002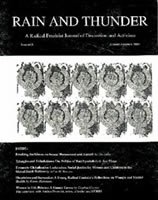 Featured articles:
Breaking the Silence on Sexual Harassment by Uju Asika
Triangles and Tribulations: The Politics of Nazi Symbols by R. Amy Elman
Economic Globalization Undermines Social Justice for Women and Children in the Global South Nations by Saliwe Kawewe
9/11 – The First 14 Days by Elliott BatTzedek
Skepticism and Surrender: A Young Radical Feminist's Reflections on Womyn and Mental Health by Karen Hartmann
An Interview with Andrea Dworkin
Lesbo Porno is No Go Go by Tamar Eylon
Women in U.S. Prisons: A Cancer Grows by Cynthia Cooper
Issue #15: Lesbian Issue, Summer Solstice 2002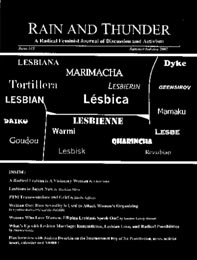 Featured articles:
A Radical Lesbian is a Visionary Woman by Chris Sitka
Lesbians in Japan Now by Machino Miwa
FTM Transsexualism and Grief by Sheila Jeffreys
Written Out: How Sexuality is Used to Attack Women's Organizing by Cynthia Rothschild and the IGLHRC
Women Who Love Women: Filipina Lesbians Speak Out! By Gurjeet Lovely Bansal
What's Up with Lesbian Marriage: Romanticism, Lesbian Love, and Radical Possibilities by Tamara Gorin
A Lesbian Looks at the Vagina Monologues by Carolyn Gage
"Our Work is Not Done": An Interview with Andrea Dworkin
Issue #14, Spring Equinox 2002
Featured articles:
Something Real: Jane and Me. Memories and Exhortations of a Feminist Ex-Abortionist by Linnea Johnson
Race, Class, and the Emergence of Black Feminism in the 1960s and 1970s by Benita Roth
Our Blood, Our Selves by Cathleen and Colleen McGuire
Not a Crime by Sima Rabinowitz
Hierarchies of Silence: Deconstructing Oppressions Within Latina Realities by Claudia Narvaez-Meza
Girls to Boyz: Lesbian Pornography as Self-Negation by Christine Stark
My Passion for Women by Adriene Sere
In Review Heartbreak: The Political Memoir of a Feminist Memoir by Andrea Dworkin, Reviewed by Christine Stark
Issue #13, Women and Globalization, Winter Solstice 2001
Featured Articles:
Globalization, Information Technology and Sex Exploitation by Donna Hughes
Women as Consumers and Producers in the World Market by Evelyne Hong
Whose World is This: Racism and White Supremacy in the Anti-Globalization Movement by Walidah Imarisha
Wild Politics: Inventing a Feminist Future by Susan Hawthorne
Globalizing from Below: An Interview with Anuradha Mittal
Report from Uganda Women's Conference by Megan McLemore
Spells and Counterspells: Why Act Now? by Starhawk
The Golden Needle of Globalization by the Women of Color Resource Center
Neo-Liberal Trade Policies, Women, and the Changing Climate – Drawing the Connections by Tamra Gilbertson
Pakistan Private Limited: An Acquisition of the IMF and the World Bank by Azra Talat Sayeed
Rape and Violence Against Women Have Always Been Terrorism: Are We So Keen To Go to War for All Women? A Call on Feminists to Protest the War Against Afghanistan by Nikki Craft
Issue #12: Women and Mental Health, Fall Equinox 2001
Featured Articles:
The Personal is Political by Sasha Claire McInnes
Thoughts on Women's Mental Health by Brenda Wentworth
The Prevalence of Abuse Histories in the Mental Health System by NAC/SMHA
The Rape of the Female Mind by Lynann Politte
Delusional Dominating Personality Disorder by Paula Caplan
False Memory Syndrome Denying and Distorting the Experiences of Women by Ann Beckert and Sandra Newson
Women and Self-Inflicted Violence by Elliott bat Tzedek
Health Experiences of Twin Cities Women Used in Prostitution by Ruth Parriott
Emotional Health by Karen Henninger
Letter to a Friend Who Self-Identifies as Sex-Positive by Carolyn Gage
Mad Grrrls Love Song by Out of Our Minds Collective
Issue #11, Summer Solstice 2001
Featured Articles:
Beyond Multiple Choices by Rebecca Whisnant
Letter to My Sister by Francesca Campbell
The Body is Not a Commodity by N. Marandon
Cultural Ideology and the Objectification of Women by Melissa Turner
Into the Night by Loolwa Khazoom
AIDS Becoming a Women's Disease by Mithre Sandrasagra
An Interview with Jean Kilbourne
Cambodian Women Meet Challenge of Man-Free Society by Hillary Jackson
Declaration of Independence of a Token Woman by Lynann
What is Beauty Anyway? By D.A. Clarke
Remembrance Day for Womyn Raped in All Wars
Sexism at the Show: A Feminist Rocker Speaks Out by Patricia Barrera
Issue #10: Art and Politics, Spring Equinox 2001
Featured articles:
Sticking it to the Patriarchy by Anonymous
Women in Action: Womyntage
Poetry by Lierre Keith
She Wanted to Be an Astronaut by Elliot Bat Tzedek
An Interview with The Guerrilla Girls
Poetry by Heidi Hunter
Acceptance Speech for 1996 Nancy Dean Distinguished Playwriting Award Sisters on Stage Lesbian Theatre Conference, New York City by Carolyn Gage
Poetry by Tina Coggins
On Life and Art as a Feminist by Monica Mayer
The Man-Haters by Julie Burchill
Issue #9, Winter Solstice 2000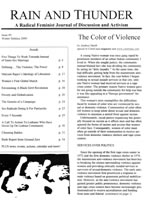 Featured articles:
The Color of Violence, by Andrea Smith
Five Things to Work for Instead of Same-Sex Marriage: A Radical Dyke Experiment for the Next Century, by Betsy Brown
defining...the violence, the power, by Loolwa Khazzoom
Maryam Rajavi's Ideology of Liberation, by Donna Hughes
Poverty and Globalization, by Vandana Shiva
Sex Radicals: Doing It for Patriarchy, by Delanie Woodlock
Every 9 Seconds, by Sistah Pace
A Call to Action to Lesbians Who Have Given Up on Lesbian Community, by Ziggy
(This issue no longer available)
Issue #8: Young Feminist Issue, Fall Equinox 2000
Featured articles:
A Call For Young Women To Get Mad! By Delanie Woodlock
Coming Out Radical: A Young Dyke's Story by Heidi Hunter
A Young Radical Dyke Roundtable Discussion
Surviving Alienation: Strategies for Living as a Feminist in an Anti-Feminist World by Francesca Campbell
A Real Choice by Charity Crouse
Menstruation Manifesto by Nicole Seymour
Purity, Poverty, and Power by Pinko Lesbo
Victim Politics: The Tyranny of Hurt Feelings by Alix Dobkin
Issue #6: Strategy Issue, Spring Equinox 2000
Featured articles:
Censored Truth by Ann Simonton
Basic Steps to Organize Anti-Porn Groups by Chris Stark
Pornography Debate Distorts Reality by Michelle Landsberg
A White Liberal Girl by Anna Mills
Defending Women-Only Space by Carolyn Gage
Lesbians in Heterosexual Patterns by Antiga
A Reservoir of Good Will: Report on the August 1999 Radical Lesbian Feminist Uprising Near Kansas City by Susan Wiseheart
The Emperor's New Gender by Alix Dobkin
Issue #5: Feminist Anti-Racism Issue, Winter Solstice 1999
Featured articles:
Welcome to Paradox by Jacqueline Anderson
Osceola's Head by Mab Segrest
State Intervention and Poor People's Kids: Race, Class, and Complexity by Claudine O'Leary
King Kong and the White Woman: Hustler Magazine and the Demonization of Black Masculinity by Gail Dines
Guess Who's Not Coming to Dinner: A Feminist Reconsideration of "The Dinner Party" by Carolyn Gage
Identity Politics and Racism: Some Thoughts and Questions by Elliott Femyne bat Tzedek
In Defense of the Goddess by Miriam Jones